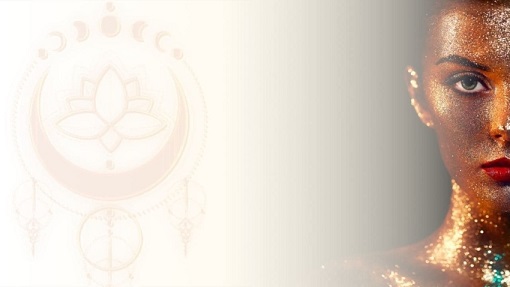 The initiated woman
February 20, 2022

06:00 PM

Oxford

Free

Copy to Clipboard

Copy link
Copy to Clipboard
Copy Link
Please note - this event is taking place in person ONLY!
We all strive to have a meaningful existence.
We find fulfilment in serving others or building a career, making a difference in other people's lives or making a difference in our own life, making it easier, better. Yet for most of us there comes a time when we feel that there is more to life, and want to experience this. As facilitators we have both had the privilege to receive some spiritual initiations and see how these have enriched our lives.
I (Iulia) was sixteen when my French teacher asked us how often we look up at the sky. That question stayed with me; we usually don't; we are just not used to doing it; we've actually been told since we were kids to watch where we tread instead. This made me realise that as the earth is part of our life experience, so is the sky. Why should we live only a terrestrial life when there is so much more to discover? It then made me wonder, how can we reach the heights of the sky while keeping our feet on the ground?
We have access to so many kinds of knowledge in today's world, but does any of it really help us to become a more fulfilled woman? Then what is the knowledge or experience that can genuinely and deeply improve our quality of life, giving us at the same time access to unlimited resources?
In this practical workshop we will talk about the very special qualities we, as women, are endowed with and how we can cultivate them.
What is an initiated woman?
A woman who has received the chance for different types of growth (spiritual, erotic etc)
She has the tools to become a conscious leader of her life
A woman who recognises that her awakened qualities are a beautiful gift and a responsibility
This intimate and awakening workshop will include:
spiritual initiation, which is not something that only existed thousands of years ago; it is something accessible and needed as much today as it was in ancient times.
what it means to be an initiated woman, finding inspiration in a brief incursion into the lives of some of the most famous initiated women.
guided exercises in which we will aim to tune into deeper, empowering aspects of ourselves, so that you can use these in your everyday life
When: Sunday 20th February 6 - 8pm GMT
Location: in person, Oxford Tara Yoga Centre 2nd Floor, Crown House, 193 Cowley Rd, Oxford OX4 1UT
Looking forward to a magical time with you all,
Welcome to the Venus universe!
To receive news, sublime feminine secrets and special offers