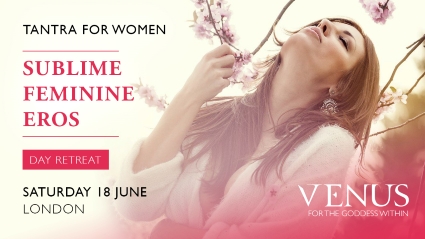 Tantra for women day retreat
June 18, 2022

10:00 AM

Tara Yoga Centre, Old Street, London

60

Copy to Clipboard

Copy link
Tara Yoga Centre, Old Street, London
Copy to Clipboard
Copy Link
Discover and reveal your unique and beautiful feminine essence, your sublime sensuality and erotic nature at the Tantra for women day retreat.
Through inspiring workshops, feminine practices, a tantric ritual and simply by being together, you will feel greatly enriched, very awakened from the feminine and erotic point of view, uninhibited and connected to your heart.
We are looking forward to this transformational day together, and taking a huge step in our awakening as sublimely sensual, loving and spiritual women!
What can you expect from this women's retreat:
Practical and spiritual methods that will help each of us connect to our femininity, sensuality and erotic energy and start to reveal the universal feminine power, shakti, within
A wonderful group of experienced female yoga & tantra teachers hosting the day, who are there for you to answer your questions, support you and guide you
Five inspiring practical workshops that will offer you in depth knowledge, spiritual insights and a very big support in your journey of self discovery and awakening your sacred feminine power
Sensual body movement to dynamise and become aware of your sensual and erotic energy
Yoni tantra yoga: practical exercises, body postures (asanas) and movements to connect to your yoni and awaken, accumulate and move the erotic energy
A ritual of communion with the Eternal Feminine Mahashakti
Access to a warm, open and inspiring spiritual community of women
When: Saturday 18th June from 11am - 8pm BST
Location of event: Tara Yoga Centre, 25-31 Ironmonger Row, EC1V 3QW
Prices: £60 regular
£50 for Venus members (please contact us)
Special offer: Bring a friend for £100 (£50 each) - please contact us for payment option
25 places available
Programme of the day:
11.00 – 11.45: Opening workshop
11.45 – 13.15: Feminine Eros: discover your sublime erotic nature
13.15 – 14.15: Break
14.15 – 15.45: The tantric path for women: revealing your full feminine potential
15.45 – 17.15: Yoni Tantra Yoga: awakening our feminine power
17.15 – 17.30: Break
17.30 – 18.45: Shamelessness: keys to live a more happy, orgasmic, loving and authentic life
18.45 – 19:45 Tantric Ritual of communion with the Eternal Feminine
19.45 – 20.00 Closing
Workshops:
Sublime Eros – embracing your erotic nature
Eros is a liberating force of nature. It is a power that awakens the Soul and our highest aspirations, uniting us with ourselves, our loved ones and with all of creation. It is a free, completely pure and playful energy. Erotic intimacy is soulful, sublime, fulfilling and freeing the spirit. It is full of spontaneity and shameless, and makes the lovers extraordinarily happy. Eros is a beautiful and inspiring part of the feminine nature.
During this workshop we will explore the sublime energy of Eros, how we can awaken it in our being and how to live our life embracing our erotic and sensual essence.
The tantric path for women: revealing your full feminine potential
Tantra for women invites you to discover the gift of being a woman with all its sublime nuances. A woman who discovers and awakens her divine feminine nature (Shakti) becomes a woman who continuously inspires those around her.
Life around such a woman is a wonderful beneficial influence, because of her sublime and elevated feminine energies. She is a pure and enchanting beneficial feminine presence, divine, fascinating, mysterious, elevated, motherly, and she embraces everything around her with unconditional love.
The presence of such a woman awakens your heart and inspires you to search for something more profound and meaningful in your life.
The awakening of SHAKTI within more and more women will make the superior woman of the future appear on this planet.
Yoni Tantra Yoga: awakening our feminine power
Revered for her great mystery, Yoni is an enormous source of our feminine power.
To fully awaken its great enigmatic power and wisdom, first we should become aware of her, love and appreciate her, and consciously awaken her.
Within her is the seat of all happiness, a cove of heavenly treasures that only her true worshippers can have access to! By connecting with her and awakening the full potential, we will reveal all these treasures and our overwhelming feminine power.
Shamelessness: keys to live a more happy, orgasmic, loving and authentic life
Dare to be a sensual feminine woman! Dare to be undefined by any conventional stereotype, free to manifest your highest most sublime nature, unfettered by limits of self criticism due to bad education or previous relationships. Dare to be You!
We all are abundant in qualities and gifts, but we do not always allow these to shine. Most of us harbour an element of shame or inhibitions regarding our feminine nature. The beauty is that when we awaken our shamelessness, our qualities easily radiate and manifest and we become more authentic women, happy and orgasmic, blossoming from a pure and free heart.
Welcome to the Venus universe!
To receive news, sublime feminine secrets and special offers