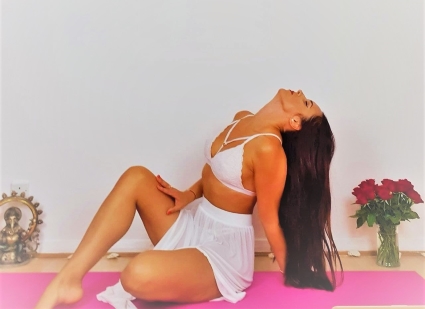 Sensual dance - intro
January 08, 2022

07:00 PM

Online

Free

Copy to Clipboard

Copy link
Copy to Clipboard
Copy Link
Dancing sensually in this free intro session we will explore our deeply feminine, erotic nature, which is within all of us.
We will learn simple ways to get in touch with our sensuality and feminine power through slow, mesmerising movements.
You can wear any kind of clothing, yet you are very welcome to wear lingerie or something sensual to help get in the mood and amplify our creative feminine energy.
About the Sensual dance group:
The Sensual Dance group is a relaxed and safe place for women to discover their unique feminine qualities, to connect with their natural eroticism and sensuality, to give confidence to be ourselves and express freely and with grace.
We will explore and awaken different sublime feminine qualities that make our daily life more enchanting and fulfilling: sensuality, purity, desire, passion, mystery, playfulness, spontaneity, creativity, admiration and many more.
Join this free intro session on the 8th January at 7pm GMT to find out more!
Register HERE to the free intro session
Welcome to the Venus universe!
To receive news, sublime feminine secrets and special offers