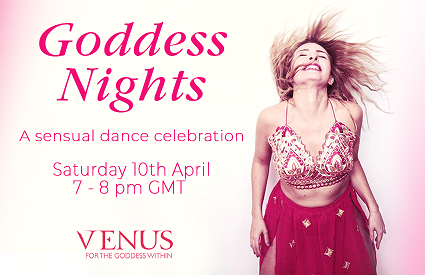 Goddess Nights
April 10, 2021

06:00 PM

Online

5

Copy to Clipboard

Copy link
Copy to Clipboard
Copy Link
An online, women's only, social evening of fun, joy, freedom and togetherness!
On Saturday, 10th of April from 7 - 8pm GMT, we are hosting an online sensual dance celebration - a spiritual celebration of connecting to your feminine power, creativity and deep sensuality.
You are invited to come in an outfit you feel beautiful, sensual, feminine in! Whether it be some special lingerie that never makes it out of your drawers, a fabulous dress or something else. This is a night to revel the sensual and radiant woman within!
Through Sensual dance we can express all our feminine qualities, feel deeply empowered, free, shameless, confident, happy and alive.
Through tapping into our deep sensuality, every single woman, regardless of her age and background, experiences the same results - the awakening of a huge feminine power inside!
This is greatly amplified when women are united in it together ❤️
Join us in this movement of feminine reawakening (including learning some simple sensual dance moves).
Contribution: £5
Once you sign up, the cofirmation email will be sent to you via email. Please check your junk as well.
Welcome to the Venus universe!
To receive news, sublime feminine secrets and special offers