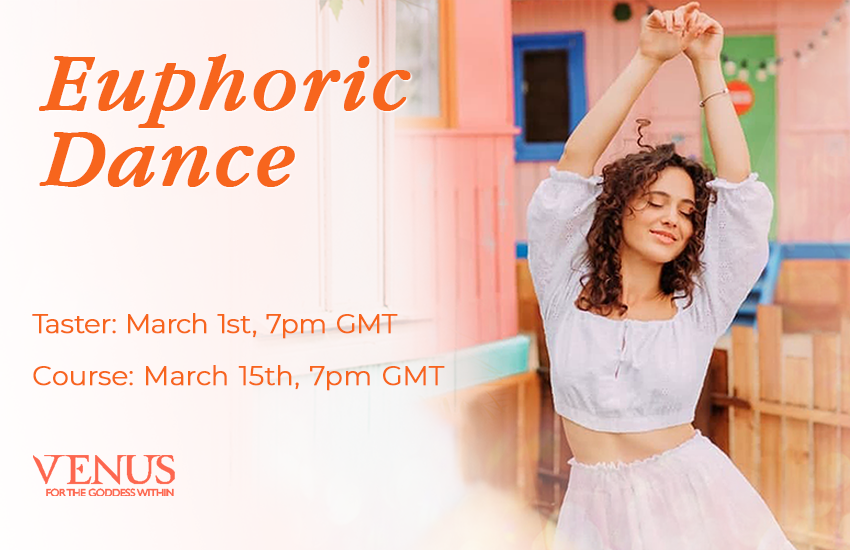 Euphoric dance
April 05, 2021

06:00 PM

Online

50

Copy to Clipboard

Copy link
Copy to Clipboard
Copy Link
On this beautiful journey of becoming a Living Goddess, listening to our hearts is an essential key!
Euphoric dance is an invitation to know ourselves from the point of view of our heart.
By experiencing this profound connection with our soul in the sacred space within, we discover that we are perfect and unique, that all our sublime feminine qualities are waiting patiently to be manifested, and once we have this realisation we can learn to bring these qualities into all aspects of our daily lives.
As women we are glowing and blossoming only when we are truly fulfilled in the heart. ❤️
Approaching Euphoric dance as a Soul Dance will lead us quickly to our inner centre, if we gently open our hearts and accept the nature of this sacred feminine mystery which exists in each of us and leads to bliss and ecstasy.
This course will take you gradually on this blissful inner journey.
Starting with becoming aware of all our tensions and traumas and then embracing them with love so they can heal.
Learning how to connect to, and awaken, our feminine potential
Developing our intuition.
Experiencing the soul dance where our hearts are guiding in every movement, so we can fill the space around us with unconditional love.
By the end of our last meeting we will be prepared to dive even deeper and dissolve into bliss and ecstasy.
***
Cost of the 4 weeks mini course: £50
Every Monday 7 - 8pm GMT starting on 15th March
*Recordings available for all sessions
About: Andreea is a Tantra for women Teacher and Dance Trainer.
She started her journey in hosting events for women a few years back, and aspires with all her heart to support other women to become happy, sensual, feminine, awakened, and full of life by sharing her personal experience and becoming for each of them that authentic friend and support we all wish for when starting a new adventure.
She's part of Venus team and has been hosting for Venus webinars on various feminine topics, dance courses ( Sensual Dance, The Art of Striptease, Euphoric Dance) and will very soon be hosting a Women`s Tantra Circle where she lives in Manchester.
Welcome to the Venus universe!
To receive news, sublime feminine secrets and special offers