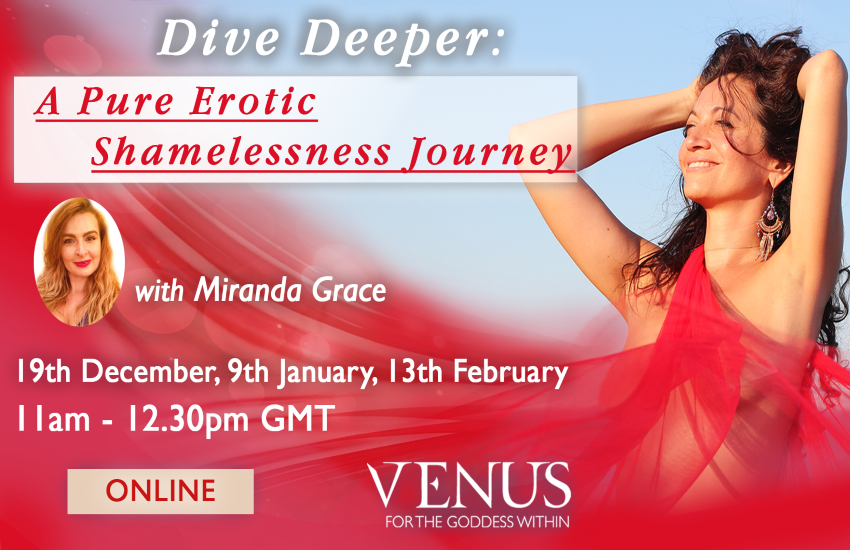 Dive Deeper: a Pure Erotic Shamelessness Journey
February 13, 2021

11:00 AM

Online

17

Copy to Clipboard

Copy link
Copy to Clipboard
Copy Link
What if your body were spiritual? What if your erotic energy was too? In this world of opposites, women have been labelled for centuries as 'good' or 'naughty' 'sexy' or 'innocent'. We do not have to chose.
In this 3 part journey for women, meeting via Zoom on Saturdays from 11 - 12:30pm GMT (*recordings available) over the course of 3 months leading up to Valentine's Day, we will learn how to use Tantric-Taoist tools and methods to free ourselves from limitations, guilt and shame around our bodies and our eroticism.
Exploring sacred sensuality, Pure Erotic Shamelessness and the qualities that define this.
We'll learn how, through freedom from shame, we can have a more honest, happy, orgasmic and loving relationship with ourselves and others, and move closer to achieving our full potential as women.
Saturday December 19th: Shame and shamelessness; a history
What is shame/shamelessness? Ancient matriarchal cultures & 'original shamelessness'.
Shame & shamelessness in Art & culture through the Ages
Identify personal doubts & limitations regarding shamelessness, learn tools to reflect on, and overcome these
Saturday January 9th: You are what you admire
Qualities that characterise Pure Erotic Shamelessness, how can we cultivate them?
Tantric principles of unity amongst women
Spiritual principles of attraction and assimilation through admiration, media clips and a special technique!
Saturday February 13th: My Shameless Life
Stories, sharing and practical advice from exemplary women who now live an erotically shameless life
Practical methods to amplify shamelessness in the everyday; 'Shameless To Do List'
A creative exploration and celebration 'What Inner Freedom means to me'
- Special 'My Shameless Valentine' preparation and exercise to prepare for the day; however we're celebrating
***
Cost: £45 for all 3 sessions or £17 for individual sessions
*Recordings available if you cannot attend on the day
***
About the teacher: Miranda Grace has lived a varied life; teaching and living around the world. 7 years ago, she went from party girl to self-help, 12 step and 6 am sun salutations. Yet it was only when she discovered the Tantric path 5 years ago that she found a spiritual practice that embraced all of her; where her abundant erotic energy was a gift not an obstacle. Miranda Grace is on a journey of Shamelessness; going from deep body shame to nude photography, from hypersexual codependency to Sacred Eros&inner freedom. She now deeply wants to share her learning with others in an engaging, soulful and vibrant way.
Welcome to the Venus universe!
To receive news, sublime feminine secrets and special offers