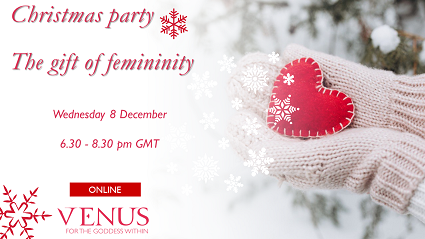 Christmas party
December 08, 2021

06:30 PM

Online

Free

Copy to Clipboard

Copy link
Copy to Clipboard
Copy Link
Would you like to spend an evening together online celebrating Christmas, sisterhood and the amazing gift of our femininity?
You are very dear to us and we would love to be together with you all on Wednesday, the 8th of December from 6.30 – 8.30pm GMT to celebrate Christmas and our year together.
Register HERE
We have been preparing many wonderful surprises for this feminine celebration, including:
❄️ Shakti dancing
💗 Games to awaken our free flowing feminine energy
🎁 Gifts for you
🙏 Spiritual moments of contemplation and meditation
🌷 A special ritual of deepening our connection with the Divine Feminine
👩🏽‍🤝‍👩🏼 Lots of joy, laughter, Shakti energy and sisterly connection
If you would like to bring a female friend with you who hasn't attended a Venus event yet, please let us know her name and we'll add her to the list.
🎁 We wish to offer special prizes for your wonderful transformation! If you feel like sharing, we'd really love to receive testimonials of your feminine awakening and transformation throughout this year. Please send them to info@venuswomen.com, or your teacher, by Wednesday 1st December.
👗 Dress code: Christmas Shakti style!
We are so looking forward to being together, learning from each other, reflecting on our year and celebrating this special moment of Christmas
* This celebration is open to all the women who participated in any Venus event during 2021, and a friend
Welcome to the Venus universe!
To receive news, sublime feminine secrets and special offers