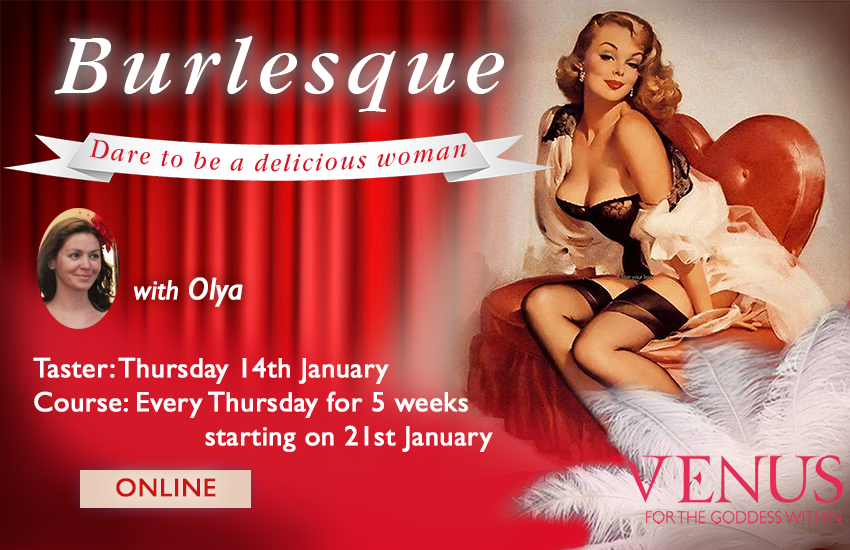 BURLESQUE
February 18, 2021

07:00 PM

Online

50

Copy to Clipboard

Copy link
Copy to Clipboard
Copy Link
❤️ Burlesque is a delicious, alluring, elegant dance style that creatively expresses sensuality and glamour
Being glamorous, or fascinating, doesn't mean to just possess certain qualities, it also means to know what to do with them. Fascination is how we express what we were gifted with!
How can we use these treasures of our soul? How to manifest them through the deliciousness of our movements and attitudes; ready to charm and to radiate delight?
Join us for a FREE TASTER session on Thursday, 14th January from 7:30 - 8pm GMT
🌷 Join this free taster session to receive a £10 discount on the course (valid for 24 hrs)
***
The mini course will start on Thursday, 21st January, and over the 5 weeks we will learn:
🌹 simple and delightful burlesque dance movements, which express elegance, playfulness and feminine charm;
🌹 to awaken creativity with the use of accessories, lingerie and high heels, amplifying our sensuality and enriching our romantic life,
🌹 to awaken specific attitudes and qualities which will lead to an expansion of our feminine potential, enriching us and bringing sparkle and passion into our daily life;
🌹 to cultivate self-love and self-confidence, using our unique endowments to the maximum, as well as new attitudes through which we can awaken new feminine qualities to discover the depths of our soul.
This course will guide us on a dance journey through the fundamental feminine qualities, and how they can manifest through the specific richness of Burlesque as well as in our daily life:
💖️ Elegance and grace
💖 Inner freedom and shamelessness
💖 Playfulness and spontaneity
💖 Creativity and state of Shakti (incl.64 arts of Kama Sutra)
💖 Fascination and mystery vs. seduction.
Join us to explore your unique femininity, new multiple facets of your soul, to know the woman who you really are! ❤️
Cost of the 5 weeks mini course: £50
Every Thursday 7 - 8pm GMT starting on 21st January to 18th February inclusive.
*Recordings available for all sessions
To register for the mini course, email us info@venuswomen.com
About: Olya has been on the spiritual path for nearly 20 years, incl. 10 years of Tantra and Yoga study and practice. She is a certified Tantra for women teacher and has 10 years of background in a professional dance school.
She continiously keeps exploring different aspects of her femininity through various dance styles, as she believes that this is one of the quickest ways to her soul.
Welcome to the Venus universe!
To receive news, sublime feminine secrets and special offers