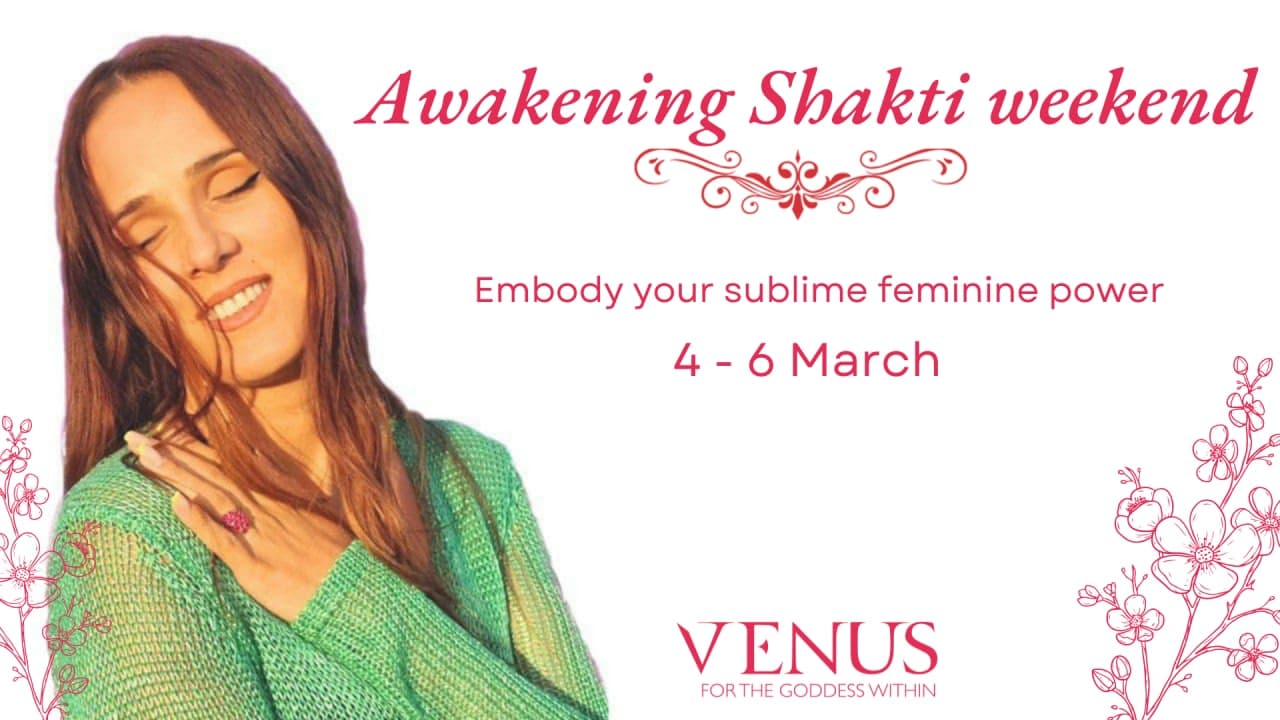 Awakening Shakti weekend 2022
March 06, 2022

11:00 AM

Online

130

Copy to Clipboard

Copy link
Copy to Clipboard
Copy Link
Would you like to be a woman who embodies her sublime feminine power, an inspiring and fascinating woman? Who manifests it naturally and confidently and expresses a deep sensuality, radiance, harmonious personal power, sacredness and love in her daily life.
We have invited 12 wonderful women with years of practice and experience on the yogic and tantric path, who have gathered together their knowledge and personal experiences, charged with all their dedication and devotion they feel for every woman, to share from their hearts, in order to support your spiritual awakening and feminine blossoming.
We invite you to join us during this weekend and celebrate together the beauty and joy of being a woman with all the sublime nuances of femininity in a very intimate and sacred space amongst women!
Signing up to this event you will receive:
Access to the recordings for 30 days
A beautiful guided meditation from the weekend
Meditation music tracks
An e-book with delicious feminine practices to embody your sublime feminine power
Sublime femininity playlist
List of aphrodisiac herbs to boost your erotic energy
List of positive affirmations to embody your sublime feminine power
When:
Friday 4th March from 7 – 9pm GMT
Saturday and Sunday, 5th & 6th March from 11am – 6.45pm GMT
Prices:
Bring a friend: £130 for both (£65 each).
Single ticket: £110 or £95 for members - use code SINGLE110 or SINGLE95 at the checkout.
Programme
Friday 4 March
19.00 – 19.45 Embodying femininity: a woman's natural path of happiness, fulfillment and spiritual awakening (Catherine Dunworth)
19.45 – 20.30 Sacred Temple dance (Raluca Duda)
Saturday 5 March
11 – 12 Opening ritual: The yoni - the gateway to the Eternal Feminine, Mahashakti (Olya Frolova)
12 – 13 Tantric love making and some of the extraordinary benefits (Catherine Dunworth)
13 – 13.15 Break
13.15 – 14.15 Deepening self awareness through the esoteric knowledge of the feminine Soul archetypes (Magdalena Hau)
14.15 – 15.15 How to become and always be a spiritual woman (Victoria Trif)
15.15 – 16.15 Break
16.15 – 17.15 How I awakened the sublime feminine power within me (Amy Sadovinski)
17.15 – 18.15 How to continuously reinvent yourself on the journey of discovering and deepening the awakening of the feminine ideal, Shakti (Purusha Ananda)
18.15 – 18.45 Shakti dance party
Sunday 6 March
11 - 12 The sublime energy of beauty - a wonderful key to become a super feminine shakti on a daily basis (Andreea Jerka)
12 - 13 The Eternal Feminine is not a feminist (Maria Blandine Wegener)
13 – 13.15 Break
13.15 – 14.15 Reconnecting to your breasts, reconnecting to your femininity (Cristina Aura)
14.15 – 15.15 The erotically awakened woman: methods to access an enormous sublime feminine power through awakening erotic energy (Kate Wallwork)
15.15 – 16.15 Break
16.15 – 17.15 Daily feminine practices for connecting to your body (Olya Frolova)
17.15 – 18.15 Self care methods to help you awaken a radiant femininity (Andra Mateescu)
18.15 – 18.45 Awakening Shakti closing (Catherine Dunworth)
Welcome to the Venus universe!
To receive news, sublime feminine secrets and special offers