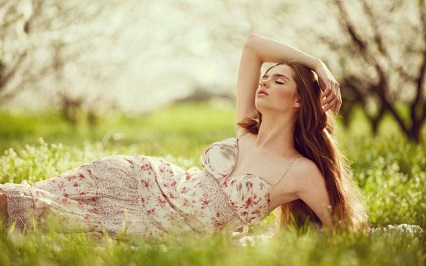 Awakening Shakti Weekend
September 19, 2021

11:00 AM

Online

130

Copy to Clipboard

Copy link
Copy to Clipboard
Copy Link
Have you ever felt there could be more to lovemaking? Have you heard about certain amazing experiences that are possible in Tantric intimacy? Would you like to discover the delights of eros, and what it can mean for your life, and your love life? ❤️
The pure erotic energy; the essential energy of Tantric eroticism and a woman's natural endowment, is a key for deeper intimacy, happiness, fulfillment, ecstatic orgasms, heart awakening and feminine radiance.
We invite you to a wonderful feminine weekend for women. Whether you are in a relationship, single or looking to change the way you relate.
Lovingly facilitated by experienced teachers through a rich variety of inspiring talks, workshops, meditations, feminine dance and other practical sessions.
Cost of the weekend:
Bring a friend and pay: £130 for both (£65 each)
Single ticket for the weekend: £110 - use code SINGLE110 at the checkout
The programme of the weekend: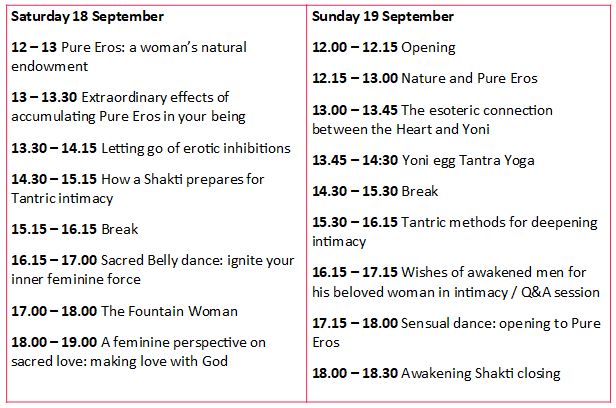 Pure Eros: A Woman's natural endowment
The erotic energy (Pure Eros) and the sexual energy are two different energies, with different levels of vibration that manifest through different aspirations, attitudes and habits. The Pure Eros is a sublime subtle energy that is the basis for Sacred love making, it elevates the consciousness, gives ecstatic states of orgasm, unity between the lovers and self-knowledge.
The more a woman connects to the Divine Feminine within, and manifests herself freely and without prejudices, the more she will become a pure channel for this energy and will become an extraordinary inspiration for the man she chooses to make love with.
During this opening workshop we will discover the nature of Pure Eros and how we can awaken and manifest this energy more freely.
Extraordinary effects of accumulating Pure Eros in your being
As a woman awakens, she realises that Sublime Eros is her true nature; what her heart was always seeking. It's been there all along, and from that very moment the effects of this realisation will develop into the most sacred and sublime experiences.
She will start to discover that the earthly delights are hidden in the smallest moments of life, and that each healthy woman can reach the peaks of her own eroticism.
When you start to accumulate this sublime subtle energy in your inner universe, you will become a sensuous woman, you feel freer, more fascinating, full of life and you`ll discover the delights of overwhelming states of orgasm, bliss and ecstasy!
This talk will reveal to you all the extraordinary effects that will appear in you through the accumulation of this sublime energy of Pure Eros.
Letting go of erotic inhibitions
Inhibitions are self-limiting beliefs based on fear; often projected onto us, or reinforced, by society, family, partners and the media. They are literal blockages, or barriers, that stop us from feeling free, confident, and able to express ourselves fully – both inside and outside the bedroom.
Inhibitions are a type of repression that can lead to addictions and other unhealthy behaviours. Releasing inhibitions re-energises us. It can also help you to listen more closely to your inner voice and follow your purpose in all areas of life; not just the erotic.
In this workshop we'll discover more of the everyday benefits of releasing our inhibitions and conditioning. Through practical exercises, techniques and visualisations, the intention of this workshop is to accelerate our dropping of inhibitions.
Preparing you to feel more confident, sensual and more yourself. Releasing inhibitions doesn't mean you will necessarily become a sensual bomb, the aim is more to help you feel more able to express your unique flavour of sensuality and playfulness. And so feel freer to live a healthy, happy and fulfilled life.
How does a Shakti prepare for tantric intimacy?
From ancient times the preparation for intimacy with the beloved one was a very complex ritual.
For every woman who aspires to become a living Goddess, who considers her body a temple and her heart a sanctuary of love, correct preparation for amorous intimacy is an essential tool.
The inner attitude, amorous effervescence and beauty tips are some of the main aspects that women should take in consideration before a moment of intimacy with their beloved. Preparing the lovemaking space is also important and can become a beautiful shared ritual.
Here is a real challenge for every woman to transform, like a magician, the bedroom, into a sanctuary in which to feel the most sensual, feminine and refined aspects of your being are nourished.
In this intimate talk you will discover step by step how this inner and outer preparation can be done so that every moment of intimacy with your beloved becomes beautiful, fresh and sacred.
Sacred belly dance - ignite your inner feminine force
Many spiritual rituals, including the temple-dance derived belly dance, energize the spinal area, causing an awakening and strengthening of our inner feminine force.
The erotic energy is very natural in a woman, and often we make efforts to block our sensuality, to hide this energy, to become invisible and not manifest this feminine power.
Sometimes we can feel that the natural flow of this energy in our being, especially between the heart and the yoni is cut.
The sacred belly dance shimmy creates a harmonious vibration in our body, allowing us to have a profound relaxation and removal of energetic blockages. The sacred belly dance movements, affect the mobility of joints very well, muscles become more elastic, and refine our huge energy, connecting deeply to our sensuality, love and freedom. This will harmoniously restore the natural energy flow of life between the yoni and heart, making us super fascinating and radiant women.
The esoteric connection between the Heart and Yoni
The tantric tradition describes the very important subtle connection between a woman's heart and her yoni, which shows the connection between a woman's emotions and feelings and the openness of her yoni, and her level of erotic awakening.
During this talk we will look deeper into this relationship, we'll discover the importance for a woman of becoming more aware of her emotions and realsing how, by blocking her emotions - or cultivating negative emotions - she blocks her energy, and can even create illness in her yoni. When we can truly understand this interconnectivity we can start to open ourselves up to true intimacy, profound states of orgasm (including cervical orgasm) and even mystical states of consciousness through orgasm.
A feminine perspective on sacred love: making love with God
What does it actually mean to make love to God? How is this possible? The Tantric tradition teaches us that making love is not an end in itself, but a way to ascend to the heights of our femininity. A way to discover the fundamental reality of God. This is one of the fastest and most pleasurable paths to self-realisation; through overwhelming orgasms, mystical, beatific states and even states of divine ecstasy (Samadhi).
During this talk we will discover, through true and inspiring stories, how these states feel in a woman's body and inner universe, and what are the main conditions that can trigger them. The good news is that every woman is gifted and has the potential to have everything she needs in order to achieve these spiritual states.
Nature and Pure Eros
One of the most delightful things about the energy of Pure Eros is that you do not need to be in a couple relationship, or even making love, in order to experience it.
This energy is all around us, in the very fabric of creation. As we discover, through awakening our physical and spiritual senses, life as a sensual experience, we can tune into this pure Eros in the everyday.
One of the easiest ways to perceive, and interact with, this energy is in nature. Mother Nature is herself feminine and there is so much fertility, juiciness and life-giving energy in nature and in the elements.
In this workshop we'll become more present in our senses and use mindfulness to connect to our bodies and the natural world. We'll learn practical tools for discovering the masculine, feminine and erotic energies in nature, and discover how we can feel awakened and nourished by them at any moment; how this relationship with this energy of the pure eros in nature can become one of our most fulfilling ones.
The Fountain Woman
Fountain women is the name for women whose erotic pleasure is manifested by the abundant emission of a liquid during orgasm. The mysteries of the `Fountain Women` is a very delicate topic which was often considered a taboo.
Usually associated with pornography; it triggers fascination but also skepticism. The phenomenon continues to be a scientific and spiritual mystery, with many believing it is not real or possible.
Are there really fountain women? Are they real women, not only adult industry stars? Is this liquid orgasm natural and healthy?
The answer to all this is yes!
In this talk we will dive into in the mysteries of this intimate topic to discover different sublime nuances of the liquid orgasm and tantric feminine eroticism.
Yoni egg Tantra Yoga
By energising and dynamising our Yoni (female genitalia) and its full potential and power, we can feel more alive, radiant, happy and awakened as women and have a more fulfilled erotic life. This will make our Yoni more alive; training its muscles, and awakening its more subtle, spiritual dimension.
In this workshop we will learn very practical ancient techniques from the Tantra and Tao traditions (some with a crystal Yoni egg and some without) to strengthen vaginal, PCV and other pelvic muscles and to amplify the amazing power of our precious Yonis.
*there will be no nudity involved in this workshop*
Tantric methods to amplify intimacy
Genuine intimacy is an essential ingredient in love and love making. Understanding what intimacy truly is, and how we can reach it and maintain it, is foundational for happiness and fulfillment in our relationships.
Intimacy comes through openness, authenticity, self awareness and heart to heart connection. During our talk, we will look into some key ways to create true intimacy. We'll also explore some simple, beautiful methods we can use in our couple relationship, including before making love, to help create heart connection, intimacy, love and openness.
Wishes of awakened men for his beloved woman in intimacy
During this one hour interactive session with Foca Yariv and Morgan Arundel, two Yoga and Tantra teachers who have also been leading men's groups for more than ten years at Tara Yoga Centre, we will have an insight into the masculine spiritual perspective about eroticism and what really touches their heart from their beloved women in intimacy.
We have asked them to cover the following subjects:
What do awakened men truly love in a woman?
What are the qualities of a woman that are most inspiring for a man in intimacy?
If you could give five pieces of advice to women wishing to initiate their beloved man in sacred eros, what would those be?
What are the most important things you learnt from women in intimacy?
What is the man's role in Eros?
Sensual Dance – opening to Pure Eros
Sensual dance is a beautiful way to connect to our sensuality and to allow it to manifest freely and spontaneously. Dancing sensually in this workshop we will explore our deeply feminine, erotic nature, which is within all of us. We will learn simple and efficient ways to get in touch with our sublime sensuality and charming feminine power through slow, mesmerizing movements. It's wonderful, yet optional, to wear our lingerie to help create the sensual mood and amplify our feminine energy.
*Recordings will be available for 30 days after the event if you can't attend all sessions*
Welcome to the Venus universe!
To receive news, sublime feminine secrets and special offers