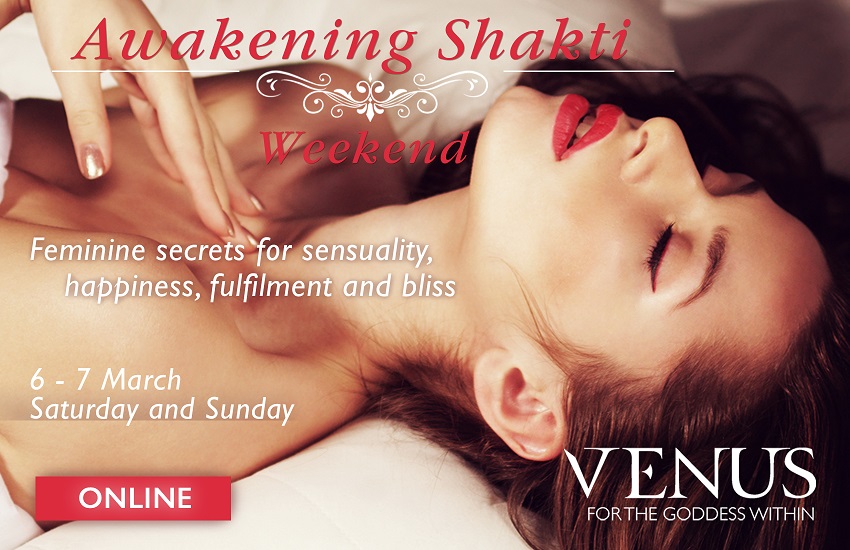 Awakening Shakti Weekend
March 07, 2021

11:00 AM

Online

110

Copy to Clipboard

Copy link
Copy to Clipboard
Copy Link
A full weekend immersion into the fascinating reality, and infinite possibilities, of being a woman and fully awakening the universal feminine energy (Shakti) within.
9 Teachers, 12 hours, 100's of Goddess secrets and a wealth of delicious activities!
THE FULL WEEKEND PROGRAMME:
Saturday 6 March 11am - 6:30pm GMT
11:00 - 11:30 Awakening Shakti opening – with Catherine Dunworth
11:30 - 12:30 The joy of truly being yourself – with Andreea Jerca
"'What is happiness?' 'To be in harmony with yourself'". Pitagora
Many of us look for happiness somewhere outside of us. In fact, happiness is always in our hands and hearts.
The relationship with ourselves is the most important relationship we have. It influences our whole life: health, psycho-emotional state, relationships, creativity, efficiency and even success in everything we do. Fulfil yourself as a woman in this world. Live in harmony with everything and be yourself! Your happiness depends on you.
Choose happiness and happiness will choose you.
12:30 - 13:15 Tantric twerking for awakening the power of Shakti – with Raluca Duda
Using a range of twerking moves, we will awaken and raise our huge potential energy, the life energy of our being, or kundalini shakti. With each move that we will do while twerking, we pump this powerful life energy through the rest of the body to the crown of the head.
Using the dynamism of the tantric twerking moves, we will begin to relax the pelvic area deeply, allowing the vital and erotic energies to flow freely, opening us up to pleasure and to real intimacy, and so creating emotional stability and inner balance. We will dive deeper into this wonderful and unique way of twerking, discovering how to elevate this pleasure, full of awareness, through our dance.
13:15 - 14:15 Lunch break
14:15 - 15:15 Tantric secrets for bliss: become a Goddess of amorous intimacy – with Miranda Grace
What if you could experience profound intimacy in your relationships, freedom from er0tic shame and other negative self-beliefs, begin to experience sacred lovemaking and even states of er0tic bliss? All on the background of absolute safety; an unshakeable self-love and confidence.
In this workshop, we'll take concrete steps to become a living Goddess of amorous intimacy. This starts with knowing, and taking care of, our own intimate needs; through reflection, mindfulness, authenticity. It continues with understanding the difference between Pure Er0s and S*x and what they bring to our lives. We deepen through knowing our amorous energies and inner reality, and learning strategies to express this to others effectively and lovingly.
We will start to awaken our unique amorous potential through fun daily exercises, and experience tools for genuine self-love!
15:15 - 16:15 Yoni Tantra Yoga – with Olya Frolova
Yoni (vulva) has been a taboo subject for centuries, so no wonder so many women are disconnected from, and even ashamed of, it. Though according to the Tantric wisdom, as well as many other traditions, it is the very source of our power, energy and creativity. It gives life to everything - our physical, emotional and spiritual wellbeing, relationship with ourselves and others, self-expression and more!
In this workshop we will connect to our yoni in a profound and loving way and start awakening its full potential through guided meditations and sensual movements to help us feel more alive, radiant, happy and awakened.
16:30 - 17:30 My spiritual journey of awakening the inner Goddess (Shakti) – with Andra Mateescu
As women we always desire to become better; more beautiful, more sensual, harmonious and magnetic, but not many of us know that all these qualities come from a very special state (also called Shakti state) which has its source inside our beings and can help us awaken our Inner Goddess.
If you aspire to connect with this mysterious source and to become an extraordinary woman who manifests her qualities freely, I invite you to this workshop in which I will share with you my journey of awakening the Inner Goddess/Shakti state, practical things that I did to awaken this state, which you can also do to access this eternal spring that is hidden within you.
17:30 - 18:30 Samadhi - the blissful experience of communion with God – with Cristina Aura
Achieving Samadhi is also known as union with the divine; a perfect union of our soul with the infinite spirit, God.
We'll look at the importance, and real possibilty, of experiencing states of divine ecstasy as women, together with an honest testimonial on how I started experiencing states of Samadhi and transcended the limits of my body, mind, and identity.
***
Sunday 7 March 11am - 6pm GMT
11:00 - 11:15 Opening – with Catherine Dunworth
11:15 - 12:15 A spiritual perspective on Gender – with Blandine Wegener
Being a woman in the modern day is confusing for several reasons. The echoes of gender stereotypes from the 50's still haunt us today, whilst the genderlessness of the post-modern era seems to question womanhood and its intrinsic value altogether.
In this session we want to address this confusion, and the conflicts that arise from it. Shedding light on the identity of women in our modern world and why it is so important to contemplate what it actually means to be a WOMAN in order to become a happy, healthy and thriving one.
12:15 - 13:15 Awakening our breasts, awakening our feminine power – with Cristina Aura
Most women have a certain opinion about their breasts. They either consider them as being too small, too large, a bit uneven or not firm enough.
Our bosom is not only a part of our body; perhaps a more obvious or more exciting part, but it represents an important and special energy centre which resonates with beneficial energies in the Universe.
During this workshop we will start discovering the mysteries of our breasts and will offer methods for awakening their energy and improving their appearance. We will understand how awakening our femininity also means being comfortable and confident with our breasts and with connecting to them.
13:15 - 14:15 Lunch break
14:15 - 15:15 Mysteries of the G Spot – with Catherine Dunworth
A mystery to some sexologists, still a myth for many men and women, but for the women who experience its energy and orgasmic power, the G-Spot is unmissable. The G spot is a wonderful erogenous zone, and subtle centre, inside a woman's yoni (vulva). Its awakening not only offers very special orgasms, which are deeply intimate and fulfilling, but it is also profoundly connected to the awakening of the spiritual power of the Yoni that Tantric women aspire to. This awakening of the spiritual power of the yoni puts the woman in a direct, mysterious connection with Mahashakti, the Eternal Feminine.
During this workshop we will explore the wonderful mysteries of the G Spot in an intimate, feminine and playful way.
15:15 - 16:15 Finding my true centre as a woman – with Aida Calin
Almost every woman tends to look for the source of her happiness somewhere outside herself. Whether it's a boyfriend, a job, family or other desires - a house, a car, etc. Yet true happiness comes from within.
A happy woman is one who is at peace with herself, who accepts and loves herself as she is. When she is in contact with her soul, with the spiritual dimension of her being, the woman finds her own smooth path in existence.
Then things comes to her. Everything she wants, everything she needs and everything that is necessary for her. She no longer goes outside to seek her happiness, because her happiness springs from her heart and even feeds those around her. She shines and becomes a focus of feminine beneficial energy that magnetically attracts everyone else.
16:30 - 17:30 Euphoric Dance: A blissful journey to your Soul – with Andreea Jerca
Dance for yourself, for life, for the miracle of existence.
Dancing is not just a sequence of body movements, but a way to fully discover, and connect to, the sublime music of your inner self and bring to light the unique treasures of your soul. Euphoric dance has no rules and therefore it is not necessary to be a 'good dancer' to experience it. Euphoric dance is an invitation to dance, to discover yourself as you may not know yourself yet; free, spontaneous, unique.
17:30 - 18:00 Awakening Shakti closing – with Catherine Dunworth
*Recordings are available for 14 days if you can't attend all sessions
Welcome to the Venus universe!
To receive news, sublime feminine secrets and special offers