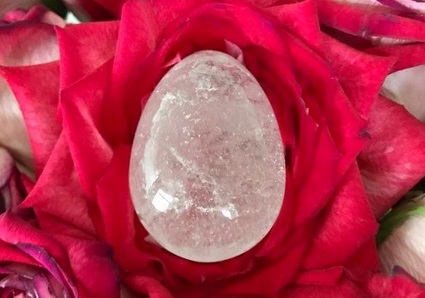 Copy to Clipboard
Copy Link
October 20, 2021

06:00 PM

Online

125

Copy to Clipboard

Copy link
A 7 week course
Training the Yoni muscles (female genitalia), and awakening its spiritual dimension, make your Yoni more alive and increase her sensitivity and capacity to experience, and also to give, pleasure.
By energising and dynamising our Yoni and its full potential and power, we can feel more energised, alive, radiant, happy and awakened as women and have a more fulfilled erotic life.
Yoni egg practice helps us awaken our erotic potential and become a fascinating, skillful lover by:
toning and strengthening vaginal, PC and other intimate muscles
amplifying the amazing powers of our Yonis
healing and rejuvenating the entire body, incl. emotional traumas, due to the acupressure of all vital organs and healing effects of the specific crystal's energy
becoming more aware of intimate muscles and the erotic energy and controlling both consciously
raising energy upwards, transforming and alchemising erotic energy into higher, spiritual energy forms, thus making it easier for us to do spiritual work
In this Yoni Egg Tantra Yoga course we will learn together:
Various practical, ancient techniques from the Tantra and Tao traditions for strengthening intimate muscles, awakening the erotic energy and amplifying pleasure and sensitivity within the yoni
Sacred Sexual Anatomy and yoni reflexology – the holistic vision of the yoni and its role and connection with the whole body
Feminine well-being and hormonal balance with the help of tantra yoga and yoni egg practices
Each 1.5 hour class will be held in an intimate, warm and safe environment (online), where you can relax and feel at ease, and will consist of:
New theoretical presentations every week
Practical exercises, body postures (asanas) and movements to awaken, accumulate and move the erotic energy
Breathing exercises
Guided meditations
Questions and answers
Optional homework and guidance
*There will be no nudity involved*
We look forward to taking this journey together with you!
Course: 7 weeks, Wednesdays starting on 13 October, 7 – 8:30 pm BST
Cost: £125
*Recordings available
🌸 The first 10 women who register on the course will receive a special offer of £20 off - Use code YETY20off at the checkout
🌸 If you are part of our Goddess Temple membership, contact us to receive your special discount code!
***
About the teacher: Olya always felt passionate to share everything that she has learnt and what has helped her on the Tantric path with her female friends, her sisters, to support each other in awakening and rediscovering our unique gifts, and to accept and love ourselves more fully.
She has been on the spiritual path for nearly 20 years, incl. 11 years of Tantra and Yoga study and practice. She is also a certified Tantra for women teacher.
All modules have been selected with total Cost : £ 125
Welcome to the Venus universe!
To receive news, sublime feminine secrets and special offers