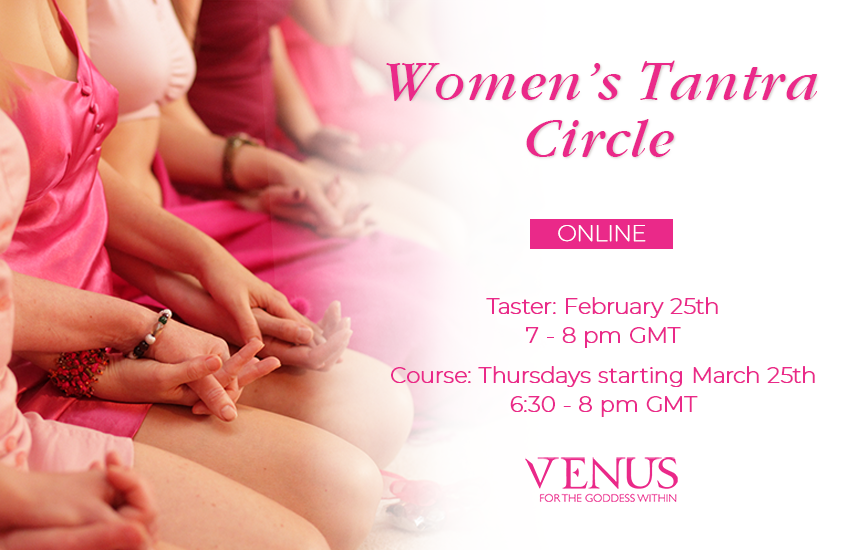 Copy to Clipboard
Copy Link
March 25, 2021

07:00 PM

Online

25

Copy to Clipboard

Copy link
The mysterious, ancient art of becoming a living Goddess
Most of us were never taught what it means to be a woman; about our bodies, emotions, desires, or how to have truly loving relationships with ourselves, men and the world. Often such topics were repressed, or even considered shameful.
The ancient tradition of Tantra has so much to offer modern women! This women's tantra course gives you the possibility to deeply enrich yourself, to develop and reveal amazing feminine qualities and to rejoice in the magic of being a woman.
Through deepening self knowledge, each woman on this course takes important steps towards awakening the Goddess within; transforming and enriching every aspect of her life.
In Venus Women's Tantra Circles, together with other amazing and inspiring women, we'll rediscover the mysterious, ancient art of being a woman; a living Goddess.
Every circle takes place in a sisterly, loving, relaxed and cozy atmosphere. We create a safe environment where women can open up, allowing our femininity to awaken and shine.
Step by step, this course will reveal essential, practical secrets and insights that we can apply every day in order to realise our full feminine potential in all areas of life.
On this revolutionary, annual course, divided into 5 main modules, we will:
Module 1: Learn how the Tantric Path is relevant to, and can help, women today.
Module 2: Reclaim our Body's wisdom and come to see it as a sacred Temple.
Module 3: Amplify our sensuality, inner freedom and natural orgasmic capacity.
Module 4: Bring more sacredness and fulfilment into our romantic lives by learning about Tantric love making.
Module 5: Gain a higher, spiritual perspective upon ourselves, our lives and the world.
Your blissfully happy, fulfilled, feminine, exquisite and orgasmic self is waiting for you!
Locations: Online
*Regional groups starting soon in London and Manchester
Free Taster session: Thursday 25th February 7 - 8pm GMT
Register here for the taster session for LONDON / INTERNATIONAL
Register here for the taster session for MANCHESTER
Course: Fortnightly on Thursdays 6.30 - 8pm GMT - starting on the 25th March
£12 for the first session (25th March). Use code WTC25MAR at the checkout.
Monthly cost is £25 per month
We can't wait to take this journey of Self-knowledge, together!
All modules have been selected with total Cost : £ 25
Welcome to the Venus universe!
To receive news, sublime feminine secrets and special offers