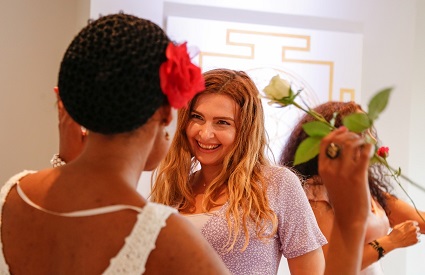 Copy to Clipboard
Copy Link
October 21, 2021

05:30 PM

Online

25

Copy to Clipboard

Copy link
The feminine art of becoming a living Goddess
In Venus Women's Circles, together with other amazing and inspiring women, we'll rediscover the mysterious, ancient art of being a woman; a living Goddess.
Every circle takes place in a sisterly, loving, relaxed and cozy atmosphere. We create a safe environment where women can open up, allowing our femininity to awaken and shine.
Step by step, this course will reveal essential, practical secrets and insights that we can apply every day in order to realise our full feminine potential in all areas of life.
This revolutionary, annual course, is divided into 5 main modules.
🌸Module 1 took place in April-May
🌸Module 2 took place in June - July
🌸Module 3 (starts 9th September) - MULTIORGASMIC WOMAN
The relationship between eroticism & spirituality
Polarity - keeping the spark in couple relationships
Sexual energy vs Pure Erotic energy
The mysteries of the Yoni
The mysteries of the Yoni part 2
The power of the lingam/ lingam transfiguration/ adoration
Yoni Adoration
Spiritual eroticism is not only related to our amorous interactions. It's much more than that!
It is related to how you experience sensuality within yourself, how awakened you are erotically, how much you accept and manifest your femininity. It is also about listening to the voice of your body.
It means to choose consciously to overcome inhibitions and to accept all your elevated desires and fantasies.
When we are erotically fulfilled, this will bring a spark of happiness, health and wellbeing to every aspect of our lives.
No woman likes to be frustrated, sad or feel jealousy towards every woman that embraces her own eroticism and wears it as a crown of dignity.
You can also become this awakened woman who is sensual, free, full of self-confidence, self-love and charisma. For every awakened woman, eroticism is the gate to the highest bliss and ecstasy.
In Module 3 of our Venus Women's Circle, we will learn how to become this fulfilled woman, how integrate eroticism as a tool to deepen intimacy, love and spirituality in your relationship in a harmonious way, so it will trigger the most profound spiritual experiences that both of you ever had.
Remember for every awakened woman, her eroticism can be the gate to the highest realms of bliss and ecstasy.
Your blissfully happy, fulfilled, feminine, exquisite and orgasmic self is waiting for you!
***
The feminine art of becoming a living Goddess
Course: Fortnightly on Thursdays 6.30 - 8pm BST
Monthly cost is £25 (2 meetings)
(Once you sign up, the confirmation email will be sent to you via email. Please check your junk box as well.)
Locations: Online
*Regional groups starting soon in London and Manchester
We can't wait to take this journey of Self-knowledge, together!
*Please do not place an order for the free intro - it has taken place on the 25th February.
All modules have been selected with total Cost : £ 25
Welcome to the Venus universe!
To receive news, sublime feminine secrets and special offers