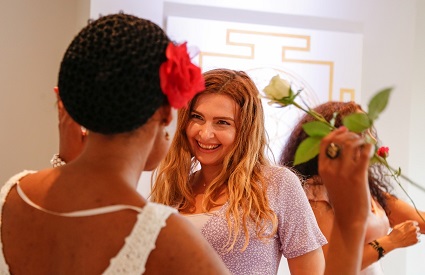 Copy to Clipboard
Copy Link
September 09, 2021

05:30 PM

Online

25

Copy to Clipboard

Copy link
The feminine art of becoming a living Goddess
In Venus Women's Circles, together with other amazing and inspiring women, we'll rediscover the mysterious, ancient art of being a woman; a living Goddess.
Every circle takes place in a sisterly, loving, relaxed and cozy atmosphere. We create a safe environment where women can open up, allowing our femininity to awaken and shine.
Step by step, this course will reveal essential, practical secrets and insights that we can apply every day in order to realise our full feminine potential in all areas of life.
This revolutionary, annual course, is divided into 5 main modules.
Module 1 took place in April-May.
Module 2 took place in June - July.
Module 3 will start on the 9th September.
Your blissfully happy, fulfilled, feminine, exquisite and orgasmic self is waiting for you!
The feminine art of becoming a living Goddess
Course: Fortnightly on Thursdays 6.30 - 8pm BST
Monthly cost is £25 (2 meetings)
(Once you sign up, the confirmation email will be sent to you via email. Please check your junk box as well.)
Locations: Online
*Regional groups starting soon in London and Manchester
We can't wait to take this journey of Self-knowledge, together!
*Please do not place an order for the free intro - it has taken place on the 25th February.
All modules have been selected with total Cost : £ 25
Welcome to the Venus universe!
To receive news, sublime feminine secrets and special offers