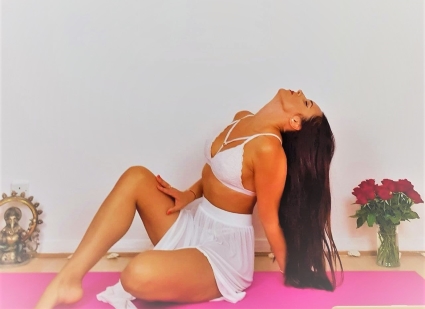 Copy to Clipboard
Copy Link
January 24, 2022

07:00 PM

Online

40

Copy to Clipboard

Copy link
The key to accessing your sensuality!
Sensual dance is a beautiful way to connect to our innate sensuality and to allow it to manifest freely and spontaneously.
This course is a relaxed and safe place for women to discover their unique feminine qualities, to connect with their natural eroticism and sensuality, to give confidence to be ourselves and express freely and with grace.
Every week we learn simple, yet powerful, ways to get in touch with our sublime sensuality and charming feminine power through slow, mesmerising movements.
🌸We will explore and awaken different sublime feminine qualities that make our daily life more enchanting and fulfilling: sensuality, purity, desire, passion, mystery, playfulness, spontaneity, creativity, admiration and many more.
You can wear any kind of clothing to the course. We encourage and support you to wear lingerie or something sensual to help us get in the mood and amplify our creative feminine energy.
A new module started on Monday, 10th January.
We meet weekly on Monday evenings from 7 – 8pm GMT.
Price - £40 / month
*Recordings available
More details you can find HERE on the free intro session that will take place on the 8th January
All modules have been selected with total Cost : £ 40
Welcome to the Venus universe!
To receive news, sublime feminine secrets and special offers