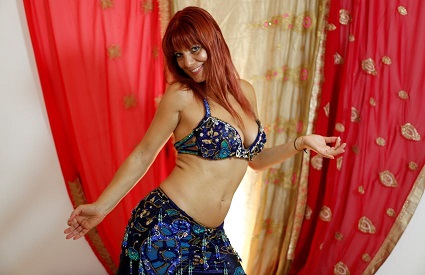 Copy to Clipboard
Copy Link
May 20, 2022

06:30 PM

Online

40

Copy to Clipboard

Copy link
A continuous self-transforming journey through belly dance
People routinely make time for meditation, exercise and deep reflection. But how many of us make time for dance as a holistic physical and spiritual practice?
Sacred Belly dance can be an outlet to express feelings and emotions that cannot otherwise be expressed through everyday language.
Understanding the rhythm in Sacred Belly Dance requires the mind and body to be in sync; becoming a meditative act and a help in expanding our consciousness and femininity.
Every month we work with a different Sacred Ideal (such as Beauty, Love, Grace), and we connect these with the four feminine principle archetypes of the soul. By discovering and assimilating these feminine qualities, our Sacred Belly Dance moves will become much more expressive, full of nuances, helping our femininity to ascend to new heights.
We will realise which feminine archetype (The Mother, The Fascinating woman, The Heroine, and The Initiatress) is closest to our heart, Additionally, we will assimilate the characteristics of the other 3 archetypes, that helps us to achieve the complete awakening of our feminine soul.
Through this profound connection between our hearts, we realise how, together as a group, our awakening as a woman is faster than when alone.
Benefits:
Sacred Belly dance is good for any body type, knowing this is a very big boost in our confidence.
Sacred Belly Dance helps us to correct our body posture. We will make our presence noticed wherever we will go.
Sacred Belly Dance releases happy hormones that will help us to enjoy more the present moment and carry that into our daily life.
The Sacred Belly Dance Group is a great way to meet new spiritual sisters, with the same interests, experiencing your dance journey together.
Connect to your body, your heart, your femininity, and increase your confidence as an awakened woman!
Sacred Belly Dance Group takes place every Friday from 7:30 - 8:30pm with Raluca
This course does not have an intro session.
To sign up for this course, please contact us first (if this is the first time you are joining this course).
All modules have been selected with total Cost : £ 40
Welcome to the Venus universe!
To receive news, sublime feminine secrets and special offers