Events
Re-treat into Your Feminine Essence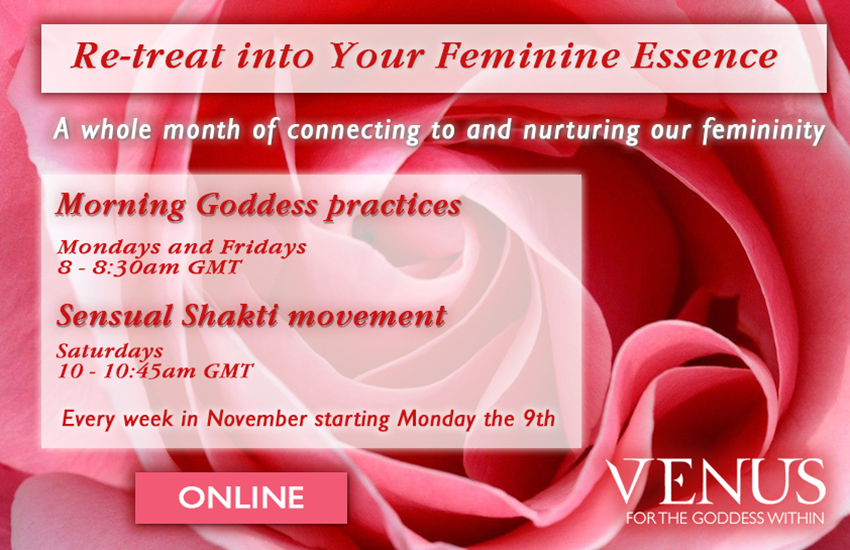 Re-treat into Your Feminine Essence
November 23, 2020

10:00 AM

Online

1

Copy to Clipboard

Copy link
Copy to Clipboard
Copy Link
We invite you all to use this new period indoors as an opportunity to re-treat. Not just any retreat, but a re connecting with our femininity, the wishes of our heart and our inner reality. A re evaluation of what's important to us. A re grounding in our natural essence as women.
This re treat is a series of Morning Goddess practices every Monday and Friday morning, to start our day feeling like a Goddess with gentle movements and guided meditations to connect with our bodies and hearts.
A longer sensual Shakti movement session on Saturday mornings awakens our feminine energy (Shakti) and prepares us for an intimate weekend, whether with ourselves or our beloveds.
We want to offer these opportunities to all women during this period, to support and hold space for you. For all of us to connect to, and nurture, our feminine essence; to find there everything that we long for and need.
This is why the re treat is offered on a donation basis (suggested donation £5), though you are welcome to contribute as little or as much as you feel 💗
The most important thing is that we make time for ourselves and nurture our femininity 💖
To make a donation: paypal.me/WomensTantra
***
We will meet online on the following dates:
Week 1
Monday 9th: 8 - 8:30am --- A sacred inner journey into our authentic feminine essence
Friday 13th: 8 - 8:30am --- Radiant Self: embodying the energy of the Sun
Saturday 14th: 10 - 10:45am ---The sensual feminine body
Week 2
Monday 16th: 8 - 8:30am --- A part of Mother Nature
Friday 20th: 8 - 8:30am --- The silent voice of the heart
Saturday 21st: 10 - 10:45am --- The inner power of the Yoni
Week 3
Monday 23rd: 8 - 8:30am --- Body poetry
Friday 27th: 8 - 8:30am --- The Inner Smile
Saturday 28th: 10 - 10:45am --- Ecstatic Dance
Week 4
Monday 30th: 8 - 8:30am --- Gratitude, the key to happiness
Register here: https://us02web.zoom.us/meeting/register/tZIvcuGsrTIjG9LxQjvaIXcYOrgEcjkyIxZU